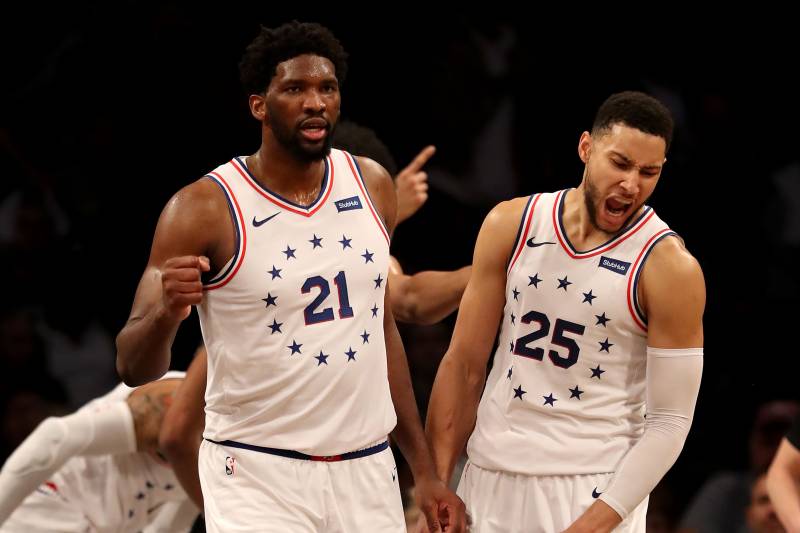 As the 2018-19 NBA season comes to a close, there are several moments that stand out as major successes for the Philadelphia 76ers. Joel Embiid, Ben Simmons and co. led them to another 50-plus regular season. The Sixers even broke a record, entering the All-Star Weekend with 37 wins for the first time since the 1984-85 season.
On the verge of advancing to the second round of the NBA Playoffs, the Sixers' integration of new players might finally be coming together at the right time. Let's take a look back at some of the defining moments for the team so far this year.
Sixers Trade for Jimmy Butler - November 12
The Sixers acquired Jimmy Butler in a trade with the Minnesota Timberwolves. Butler is one of the top 20 NBA players, ranking alongside his teammates Embiid and Simmons. In his time playing for Minnesota, Butler averaged 22.2 points per game, 5.3 rebounds, and 4.9 assists. Since joining the Sixers, he has averaged 18.7 points, 5.3 rebounds, and 4 assists.
Game Against Utah Jazz - December 27
Everyone watched with bated breath as the Philadelphia 76ers prepared to play the Utah Jazz. Several months prior, Simmons received the Rookie of the Year Award over Donovan Mitchell, creating some discomfort among Jazz fans. The tension only increased when Simmons was asked which other rookies had caught his attention during the season, and he replied, "None."
Needless to say, there was more than a little heat from the crowd when the Sixers entered the arena on December 27. During pre-game introductions, Jazz fans began booing the Sixers, which continued throughout the game. Despite the negativity, Simmons ended with 14 points, 14 rebounds, and 12 assists. The final score : 114-97 Sixers.
During an interview on ESPN, Simmons said, "It's kind of funny. They had a long time to prepare to have good things to say to me, and they were still stuck on Rookie of the Year Stuff. You had that long to prepare and that's all you have to say?"
He continued, "I'm not trying to prove anything to these fans out here. I'm just trying to come here and get a win, and we did. Took care of business."
Simmons has 56.3% field goal success rate, with an average of 16.9 points per game. Mitchell, however, generally scores around 23.8 points per game, with 43.4% field goal average. Compare Ben Simmons and Donovan Mitchell stats.
Sixers Trade for Tobias Harris - February 6
The Sixers made one last trade before the deadline on February 7, acquiring players Tobias Harris, Boban Marjanović and Mike Scott from the LA Clippers. Harris has a 20-point average per game, and he is one of the best three-point shooters in the NBA. Harris joined Embiid, Simmons, and Butler and JJ Redick as one of the team's regular starters.
Game Against Boston Celtics - March 20
Spirits were low after Philadelphia experienced three tough losses against their rivals. But the Sixers mounted an exciting comeback, edging the Celtics 118-115. Things got a little heated when Celtics point guard Marcus Smart shoved Joel Embiid, nearly causing a fight between the two players. Smart was ejected from the game immediately following the incident.
Embiid's true moment of fame, however, happened within the last minute of playing time. In the final moments of the game, Embiid made an amazing block against Kyrie Irving, allowing Butler to score in the last five seconds. Commenting on this block, Embiid said, "That is why I am the best defensive player in the league."
Game 4 - Round One- NBA Playoffs - April 20
With Embiid once again questionable for the game, he not only played, but his final stat line consisted of 31 points, 16 rebounds, seven assists, two steals and six blocks in 31 minutes, as the Sixers pulled off arguably their most exciting win of the year against the Nets. Embiid became just the sixth player to ever achieve that line in a playoff game since blocked shot became an official stat.
With Butler taking one for the team by protecting Embiid during a
skirmish
with Brooklyn's Jared Dudley, the team soldiered on in what could truly be defined as a character game, coming away with a 112-108 win. The Sixers will be playing tough games against possibly Toronto and Milwaukee as the playoffs progress. Hopefully, we can all look back one day and say this was a key win for this bunch in many ways.
Joel Embiid's Performance
Embiid's regular season average was 27.5 points per game, with more than a four-point increase from his 2017 average. He has also reached an average of 13.6 rebounds and 3.7 assists per game. His stats are especially impressive when considering his recent knee injury. Of course, he's missed several games throughout the season, causing a lot of doubt among the public regarding his ability to perform effectively in the playoffs. However, it seems his performances (even when not at 100%) are quieting any doubters.
While the Sixers appear to be hitting their stride, there's still a lot of basketball left to be played. What's arguably just is interesting is how things play out with the Sixers moving forward. Brett Brown is essentially coaching for his job. Will Butler and Harris return? Will Simmons be extended?
For now, it's a safer bet to just enjoy the ride.
Lee Flynn is from the Wasatch Mountains near Salt Lake City, UT. After Lee spent years preparing himself, his home and his family, he decided he had to do more. In his free time, Lee helps educate those who want to do the same. Through small local workshops and articles, Lee trains and teaches others on home preparation, food storage techniques, wilderness survival and self reliance. After obtaining a bachelors degree from the University of Utah, Lee moved to the Salt Lake Valley where he now lives with his wife and daughter.
Register NOW with Philly2Philly!
Follow us on Philly2Philly's Facebook page! And, don't forget to "like" Philly2Philly
Photo: BleacherReport.com