Morning campers,
I know you're shocked and saddened that it appears that the Dallas December swoon is in full bloom again. It really is quite alarming considering the former NASA engineer/Mensa president they have coaching them.
And, allow me to be the first to quash the rumor that the latest woman to come public about a tryst with Tiger Woods is Rosie O'Donnell. There is absolutely, positively no truth to this, it's all hearsay...
In what I believe is a first, the TMA this week will be written in real time as you will read my thoughts just as they happened last night… I know, I know, you're speechless...
First Quarter
*A very impressive opening drive for the Birds to say the least as they mixed in the run, the pass and the trade bait… AKA Mike Vick, who looked very good and fluid in connecting with DeSean Jackson
*A bruising 8 yard run by Brandon Jacobs as he carries 4,5,6 Eagles with him…
*And a few players later Ol' Brandon plays Santa and gives the Birds a 14-0 lead as Ride Me Sheldon gets his 2nd TD in as many weeks
*Big 4th Down for the Giants as the Eagles had penetration but Jacobs had enough daylight to get the sticks
*Jeremiah Trotter shows why he plays defense as he lets a sure INT go right through his hands and into the waiting hands of Giants TE Kevin Boss; will this play come back to haunt the Birds?
*Eagles D holds G-Men to 3
*Giants Coach Tom Coughlin implores the fans to get fired up on a key 3rd down play for his defense; how inspiring
*On the subsequent punt, Al Michaels refers to the Eagles punter as Sam Rocca
*Trot shows a flash of his old self as the quarter comes to an end
Second Quarter
*First play of the Quarter Giants WR Hakeem Nicks shows he doesn't play offense as he lets a sure TD go right through his hands; oh wait, he does play on offense
*Quintin Mikell gets flagged for two straight Illegal Contact penalties; yes, two straight… Q want to go for the hat trick

*Did Cris Collinsworth just use the word "sophisticated" and Eli Manning in the same sentence?
*Hakeem Nicks makes amends and shows why Asante Samuel will never win the Tackler of the Year awards and yes, that was Q-Mike who missed the tackle, too… not a good series for Q
*Big time First Down throw from Donovan McNabb to Brent Celek following the Giants TD to pull within 4
*Ok, this overhead camera crap has to stop… now. I may need Dramamine before the game is over
*Vick runs for First Down and looks very quick in doing so…
*Andrea Kremer just tells us Jeremy Maclin was carted off the field; where was everyone on this? Why didn't we see it as it happened?
*How the hell is that not a penalty on the Giants defender as he blatantly grabbed Brent Celek in the end zone?
*Eagles "settle" for 3… horrifically bad non-call…

*Eagles D holds, forces punt and are you kidding me with the punt return by DeSean Jackson? I'm not sure but I think in some countries that's illegal; to go from a dead stop to that rate of speed that fast… Lord almighty…. Can't teach speed, kids
*Big series here for the Eagles D to keep the Giants from scoring before the end of the half
*Giants T False Starts, no call…how can I see this from the comfort of MQ's living room an entire officiating crew cannot?
*Next play, Giants score… not a good series for the Eagles D
*Donovan has 1:30 to get it back…
*"Forward Fumble" play? What in the world is going on here tonight?
*Why are the Eagles not running the ball toward the end of the Quarter? Oh yeah, it's the Eagles, duh…
*Michael Vick comes in and is essentially unstoppable in that kind of formation
*But wait… blocked extra point… WTF?!?!?! Max Jean Gilles does his best turnstile impression
*Ok the half's over and… what's this? The Giants fumble the ensuing the kickoff, the Eagles recover with clearly enough time left on the clock to attempt a field goal yet the play is not review-able? WTF part deux…
Third Quarter
*The Giants methodically go right down the field and score a touchdown to start the 2nd Half; clearly this is not the kind of Eagles Defense we are accustomed to seeing in years' past...
*Donnie throws a pick; Eagles D needs to make a stand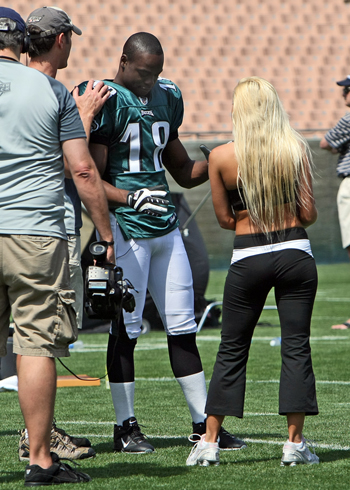 *Eli fumbles it right back on very next play… Play being challenged, call should stand as fumble... we'll see
*Call stands... fumble
*Few plays later, Donnie had Reggie Brown wide open down the field and overthrows him... badly... Does Jeremy Maclin make that play with his speed? We'll never know but it was a bad throw by #5 either way
*Giants take kickoff then score and take lead as Dominik Hixson goes 61 yards on ye another pathetic display of tackling by the Eagles and Good Lord, are the Eagles safeties, Quintin Mikell and Sean Jones just simply not very good?
*The blocked extra point looms large...
*But wait, DeSean gets deep, Eagles reclaim lead... tell you what, first one to 60 wins... Jeezus, these are two deplorable defenses...
*What's this? Each defense actually holds? ... Whoa daddy...
Fourth Quarter
*Quentin Mikell's stellar night continues with a Personal Foul with a late hit on Boss... Paging Brian Dawkins...

*Eagles D holds again... wow, netiher team has scored in over 30 seconds... there must be something wrong
*Is it me or has Winston Justice False Started at least 3 times tonight without one drawing the flag?
*Reggie! Reggie! Reggie! ... R. Brown with a nice catch and run... 1st and goal...
*Lenny "weaves" his way in for a TD and Jason Avant goes in for the 2 pointer... a very impressive drive again for the Eagles Offense... now the D must step up, again...
*Are you kidding me? Eli is sacked, dead and buried and he somehow gets it to Ahmad Bradshaw who runs for 31 yards... un-freakin-believable...
*Finally the Eagles get to Eli...
*4th Down.... could be the game right here...
*Negative... Giants successful on 4th Down, they keep the ball...
*Somehow Mario Manningham gets behind Big Sheldon for 6... or does he? Play being reviewed... it appears he didn't get both feet in bounds... this will get dicey if he's ruled in bounds...

*Call overturned... Birds out of challenges but there's only 2:21 left...
*Giants score with a buck thirty one left on the clock... hands team, front and center...
*Quintin Mikell is on the hands team???!!!! Have they not been watching this year?
*Eagles keep the ball as onsides kick goes out of bounds...
*Why is LeSean McCoy running the ball and NOT Leonard Weaver?
*Darren Howard forces a fumble, game over but... Eagles' Trent Cole loses his cool in a big way and will be fined heavily for throwing punches; let's hope he doesn't get suspended...
The bottom line is this was a hard fought, divisional win... it was an ugly win no doubt about it. And the Eagles under Andy Reid continue their remarkable December winning ways... Say it with me, a win is a win is a win...
Til next time...
Time's yours. Food's mine.