Hello campers,
Welcome back to another year of The Morning After. My weekly column where I try to figure just what the hell when it will be time for Andy Reid to "put his guys in better positions to make plays."
It's gotta happen one of these years, right?
Yesterday was of course Day One of the new quarterback era in Philadelphia and didn't Michael Vick look great? I mean the way he scrambled and threw on the run and ... oh wait, I meant didn't Kevin Kolb look great? Oh wait, he didn't.
Damn... oh well.
Let's get to getting...
THE MAN IS CASH MONEY...
Once again, I took up my post directly to the left of the greatest financial mind since James Cash Penney... Mark W. Quinlan. As per the norm, Mark provided the fare on opening day and as per the norm he did not disappoint offering up roast pork sandwiches with broccoli rabe that would have Tony Luke Jr. salivating.
I'VE PEERED INTO THE FUTURE...
In case you didn't read it, and how could you miss it, I made my official NFL predictions last week including my record for the Birds for this coming season.
Here's what I wrote...
"As for the Eagles...
I've gone over the schedule ad nauseum and I just cannot see how they can go anything but 8-8 or 9-7... sorry not seeing it. Just like every season before it, this one will see them win a game they should lose and lose a game they should win. All seems to balance itself out when the dust settles, however.
But I just can't - in my right mind, predict them to win any more than 9 games. Too much uncertainty surrounding Kolb plus it is a very young team which means we have no precedent as to how they will respond to pressure."
SHOW ME THAT SMILE AGAIN...
Quick, what 80s' sitcom theme song is that the opening line to?
Time's up... it's Growing Pains. And that's precisely we're going to get this year kids... growing pains.
The key of course will be to actually grow as we endure pain.
The next line in the song is...Don't waste another minute on your cryin'.
We're nowhere near the end (nowhere near)
The best is ready to begin.
So, stop your crying over Kevin Kolb, Leonard Weaver, Jamaal Jackson and so on.... We are indeed nowhere near the end. Let's just hope the best is truly ready to begin.
Ok, ok... I know that sounded like something from a Tony Robbins lecture but hey, it seemed like a good idea at the time...
STOP KNOCKIN' ON THIS WOOD...
Was it me or did it seem like the Eagles were constantly throwing either to the man Charles Woodson was covering or to his side of the field for most of the game?
Oh that's right... if Donovan didn't call audibles you know damn well Kolb and Vick won't, either.
SO, WHAT WOULD YOU DO WITH A BRAIN IF YOU HAD ONE?...
Eldra Buckley's absolute brain-dead penalty (he ran into the Packers punt returner AFTER he had signaled for a fair catch) was really a microcosm of the entire game in a way. Once again the Eagles committed one undisciplined penalty after another. How many times last year did we see this team follow the same patter of committing foolish penalties?
And you really didn't think you were going to make through an entire game without Jason Peters committing a penalty, did you?
AND SPEAKING OF SAME OLD, SAME OLD..
I could have saved this til the end but in spite of everything that had happened prior - most notably the injuries, the Eagles were very much in a position to AT LEAST tie the game.
But once again poor clock management and inexplicable play calling cost the Eagles the chance to do just that.
The Eagles last offensive play was classic Andy Reid play calling. Why run the second fastest man on the field wide and get the first down when you can run him straight into the teeth of the Packers Defense?
APRIL SHOWERS MAY COME YOUR WAY...
I know, I know, I know... it's only one game and I am firmly convinced that new Special Teams Coach Bobby April will get things straightened out but... holy Gizmo Williams, what was that?
Three times... THREE TIMES following Eagles scores, they allowed the Packers significant yardage on the ensuing kickoff.
I saw a complete lack of focus and hustle from the entire special teams coverage unit. And that is completely unacceptable.
TV TIMEOUT...
I have to say the TV spots run during the game were more interesting than the game itself... not to say I liked all the spots. Far from it.
GIVE HER THE BLADES...
*Did you catch Apollo Creed, AKA Carl Weathers in the Bud Light spot? What, Spider Rico wasn't available?
ON THE OTHER HAND...
*So Dodge Ram now offers a what... a 60 day handshake? Wow, that is some handshake. Of course it's merely an advertising/marketing gimmick to get you to buy a new truck but... 60 day handshake? Better make sure you have good proofreaders there Mr. and Mrs. Dodge...
DOWN ON THE FARM...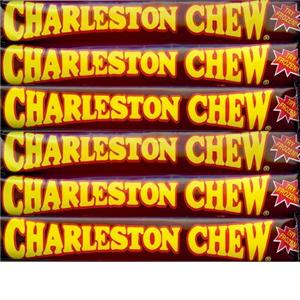 *Did you catch this? During a State Farm commercial, someone actually referenced a Charleston Chew. Could you pick a more obscure candy bar? I realize you probably couldn't reference more common candy bars like Hershey's or Reese's Peanut Butter Cups because of copyright issues but...
I'D LIKE TO DIRECT YOUR ATTENTION...
Then there was this gem from DirecTV...loved this one.
WE NOW RETURN YOU TO YOUR...
*Do you think just maybe Juqua Parker was making a statement by getting two sacks in the 1Q? 'Bench me for a rookie... I'll show you.'
*The Eagles had more yards in penalties than offense in the first half. That my friends is hard to do...
*Did Troy Aikman really say that the Eagles like to go to Riley Cooper down near the end zone? Troy, two things babe...
1. He's a rookie
2. He was playing in his first game!!!!
In other words... how can they "like going to him" when he hasn't even played one full game yet?!?!?!?!! Do your homework, Troy... study a little bit next time. Attend a production meeting or two. And for God's sakes, take off that pledge pin!
THE BOTTOM LINE...
Stop it... stop it right now. I see you in the back, whispering, using words like "quarterback controversy"...
Forget it. There is no controversy. You cannot go through the entire offseason building up Kevin Kolb as the QB of your future only to replace him with a guy who, despite appearances to the contrary, is not the future of this franchise.
Does Michael Vick give them a better chance to win right now? Probably.
But the Eagles have a ton of money and time invested in Kevin Kolb and if they had also invested some time and money in upgrading their offensive line, we may not be having this conversation.
Face it, if that was not Michael Vick back there filling in at QB and was say someone like AJ Feely or even Jeff Garcia, they may have suffered the same fate as young Mr. Kolb... meaning they too would have been pulverized and beaten to a pulp.
No, when Kolb is ready, he should be back as the starting QB of the Philadelphia Eagles.
Period.
Til next time and as always...
Time's yours. Food's mine.
You can contact Steve Olenski at solenski@philly2philly.com or follow him on Twitter at http://twitter.com/steveolenski
And be sure to follow Philly2Philly.com on Twitter: http://twitter.com/Philly2Philly